Medical Manufacturer's Representative - The Connection to Your Target Market
Getting your specialized equipment directly to your target market isn't easy, especially without an experienced medical manufacturer's representative.
---
Medical device manufacturing is a major industry and always will be. From CT scan machines to defibrillators, there will always be a pressing need for medical equipment. The problem is, original equipment manufacturers have to spend most of their time perfecting their equipment and optimizing the processes, leaving little time for sales.
This is exactly why medical manufacturers need a sales representative to help build the necessary relationships for their success and implement pre-existing connections built on trust and experience.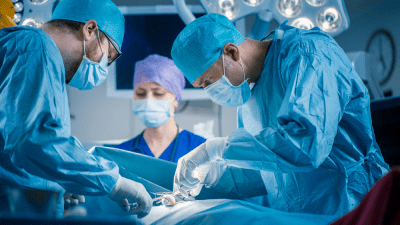 What is a Medical Manufacturer's Representative & Why are They Important?
If you are a medical equipment manufacturer, medical equipment sales reps are the best way into your target market without years of hassle and setbacks trying to do it on your own.
If you haven't figured it out by now, medical device sales reps come with many years of medical industry experience and strong connections to your target market. Medical equipment is not an easy product to move on your own.
The medical industry is built around strict codes, trusted relationships, lasting connections, and advanced equipment. Lucky for you, medical equipment representatives already have two feet in the door and are ready to make that impactful connection for you.
When you partner with a professional sales representative, you get to focus on what you do best, manufacturing.
Impactful Benefits of Partnering With a Medical Equipment Manufacturer's Representative
Instant Market Access

When you partner with a medical sales rep, you immediately gain a way into the market you so desperately need for success.

Medical Sales reps come with extensive experience in medical device sales representation under their belt. These meaningful business connections are delicately woven for success and take years to acquire. With this type of medical sales power, you can expect real success and lasting relations that will put your business on the map.

Free Consulting Services

With extensive experience in the medical market and sales, medical equipment sales reps are more than happy to guide you through the entire process and ensure your success.

New Market Opportunities

With exceptional knowledge in your target market, a medical equipment sales rep already knows their way around testing the market with new products and machinery. With such knowledge, you as a manufacturer can focus on your core processes without the extra hassle and financial strain of independent sales tactics.

Optimal Customer Response Times

With optimized customer service protocols already in place, a medical manufacturer sales rep can ensure that your customer's needs are always met in a professional and timely manner.

Management & Retention of Key Accounts

Medical device sales reps understand that building lasting relationships require careful management and thorough maintenance.

As a manufacturer, the time-consuming methods of business relationship building are nearly impossible to accommodate consistently.

With expert sales representatives, you gain much more than access into the market, you also gain the proper upkeep and retention of obtained clients. Building lasting connections is a priceless practice in the medical equipment manufacturing industry, partnering with an experienced sales reps will make it simple and easy.

Consistent Delivery of Impressive & Successful Sales Presentations

Naturally, you fully understand the value and functionality of the equipment you manufacture. However, pitching that value and creating impressive presentations designed to sell is a completely different ball game.

Medical sales reps know your target market front to back and they already have crucial relationships in place for success. They know exactly how to hit the pain points of your end-user and market to their needs. That's the experience that gets you the sale and builds a lasting partnership.

Achievement of Sales Goals & Objectives

With medical equipment sales reps on your team, hitting your company goals and reaching new peaks of success is inevitable. Experienced sales representatives will get your business exactly where it needs to go and at a much faster rate than you can do on your own as a manufacturer.

Major Sales Growth Potential

Bringing sales representatives on board simply adds fuel to the fire.

When you make that business-altering partnership, you can count on major growth in sales, building a name for your company as a reliable manufacturer, and success like never before.
What Makes Doherty Associates Your Top Choice?
Our Role in the Process Includes:
The building of meaningful relationships.
Reliable account management.
Delivering impeccable customer service experiences on your behalf.
Thorough reports on planning and achievements.
Growing your clientele and meeting new market needs with your products.
Helping your company achieve and surpass goals and much more!
If you are ready to take your medical equipment manufacturing company to the next level with a sales representative, it's time you partner with the industry's most reliable equipment source- Doherty Associates.
When we partner with a medical device manufacturer, we make it our sole mission to provide them with the success they've been working so hard for. Our medical device sales representatives have what it takes to put your company on top and provide you with quality market opportunities.
Our advanced team of preconnected sales reps is ready to take your business to the next level. Give us a call today!